Family-holiday award
Holidays for the whole family!
Whether in the Black Forest, at Bodensee lake or Swabian Alb - places and regions that are certified to be particularly family-friendly are known for family-friendly hosts and a variety of offers for children at reasonable prices: precious weeks of holidays for the whole family!
Not only the holiday resorts have a child-friendly environment, your hosts have to meet certain standards to receive the coveted award "familien-ferien". Among the requirements for the certification are a family-friendly atmosphere and facilities, child-friendly gastronomic offers, special indoor and outdoor activities, play and sports program for children and adolescents, child care, etc.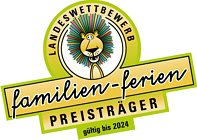 The family-farm "Schreinerhäusle" in the Black Forest / Baden-Wurttemberg was able to impress the jury for the third time at the Landeswettbewerb 2018 "familien-ferien Baden-Württemberg" vor the 4th time. And we already made our application for 2021.

Ferienwohnungen Schreinerhäusle
| Familie Greber | Steinbachtal 12 - 79274 St. Märgen
Tel: 07669 - 1652
| Fax: 07669 - 9399081 | Email:
info@schreinerhaeusle.de
|
Imprint
|
Terms and conditions
|
Data protection